Metal Pieces
Our metal artwork is all hand made from one piece of stainless steel. The pieces are colored by heating the metal in differnt places. We have flat and 3-dimensional designs for your wall, or to hang anywhere. Each piece is truely a work of art.
Pricing varies depending on the piece. Please contact us today to find one for your home.
Also check out our outdoor metal pieces.
Related Products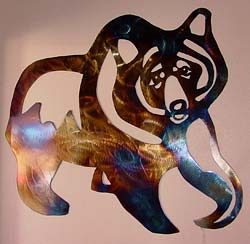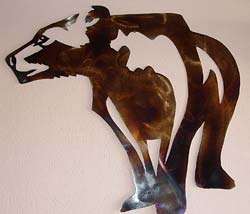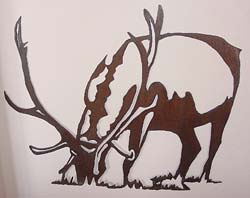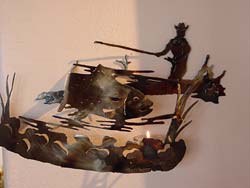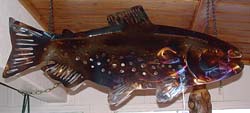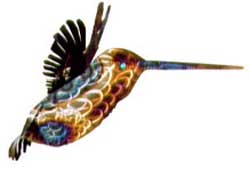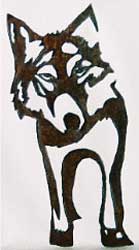 08 Bear Wall Hanging 25"h x 27"w
$139 Rust
$189 Heatclored and Swirled
09 Grazing Bear Wall Hanging-15"h x 29"w
$129 Rust
$169 Swirled and Heatcolored
07 Rear Wall Hanging 30"h x 28"w
$139 Rust
$189 Heat Colored and Swirled
07 Moose Wall Hanging 22"h x 36"w
$159 Rust
$199 Heat Colored and Swirled
06 Elk Grazing Wall Hanging 24"h x 29"w
$179 Rust
$249 Heat Colored and Swirled
01 Fish Wall Hanging Heat Colored and Swirled 17"h x 36"L
$149
01 Fish Wall Hanging Rust 17"h x 36"L
$129
01 Hummingbird 14"h x 23"w across wings x 28"L
$129 Rust
$199 Swirled and Heat Colored
02 Wolf Wall Hanging 19"h x 9"w
$129 Rusted
$169 Heat Colored